Foreword by Patrick J. Kennedy
Published by Beaufort Books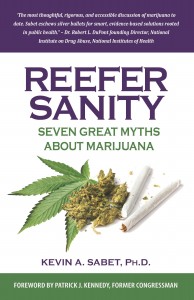 "For backers of pot legalization, Kevin Sabet is dangerous, because he can't be easily dismissed as a reefer-madness-style propagandist. The marijuana reform community should play close attention to his arguments, and the prohibitionists, if they have any plans to reverse the tide, should do the same."
–Ryan Grim, Washington bureau Chief, Huffington Post and author of This is Your Country on Drugs
"A most compelling look into the complex issue of marijuana. Sabet explores this challenging landscape and arrives at more comprehensive, effective solutions than either simply legalization or incarceration could provide to deal with marijuana use in the US."
–Dr. Drew Pinksy, Host, HLN, "Dr. Drew on Call," Board Certified MD
Time for Sanity About "Reefer Madness"
Reefer Sanity: Seven Great Myths About Marijuana (Beaufort Books) is Sabet's compelling argument for considering the costs of marijuana legalization, drawn from his almost two decades of research and policymaking in this area. Rather than criminalize or legalize marijuana, Sabet contends, a smart approach to policy is required, one based on science, public health, and public safety instead of fear and rhetoric.
In Reefer Sanity, Sabet refutes seven common myths about marijuana, including:
1. Marijuana is harmless and non-addictive.
 2. Smoked or eaten marijuana is medicine.
 3. Countless people are behind bars simply for smoking marijuana.
 4. The legality of alcohol and tobacco strengthen the case for legal marijuana.
 5. Legal marijuana will solve the government's budgetary problems.
 6. Portugal and Holland provide successful models of legalization.
 7. Prevention, intervention, and treatment are doomed to fail—So why try?